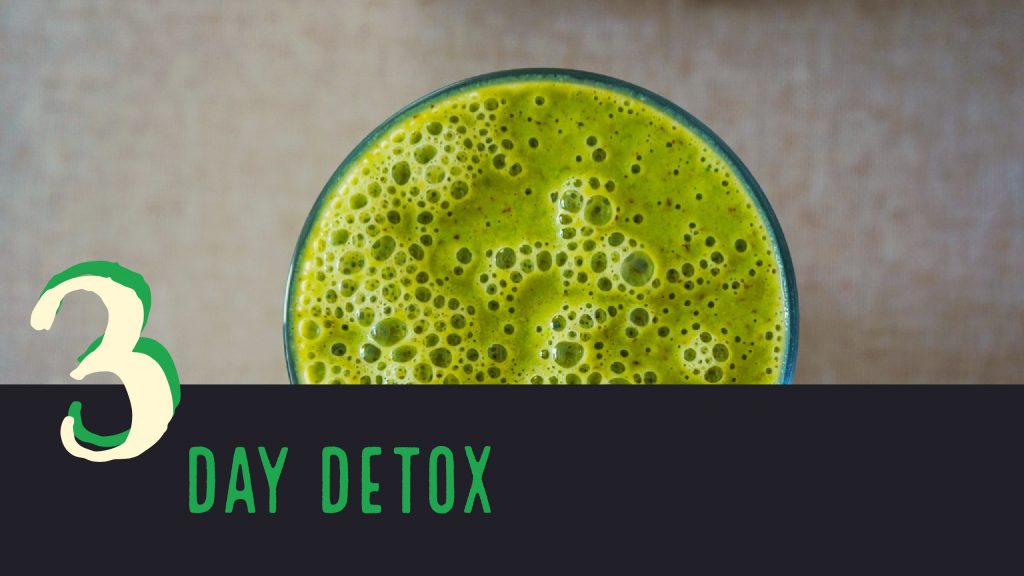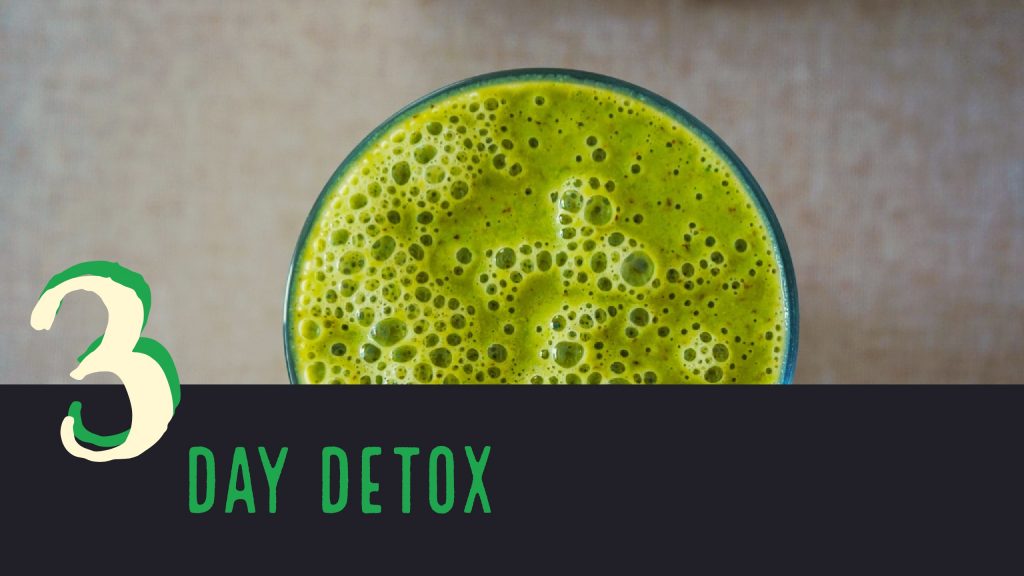 I completed a 3 day "detox" last week that was long overdue. I am not a fan of fasts, diets or even doing juice or smoothie detoxes where you drink only juices all day for a few days in a row. Many swear by them and it works to remove the "sludge" as they say, in the system. I say to each his own and I will caveat – try different detoxes if you want but ultimately do what works for you and most importantly – Listen. To. Your. Body. 
I have made quite some changes to my lifestyle in the past few years with daily green smoothies, green juices, quitting caffeine, cutting down on "white" foods, eliminating processed foods, limiting my dairy intake etc. I have also been eating smaller meals every 2-3 hours, exercising more, and keeping track of my water intake. And I have noticed amazing changes in myself as noted earlier. But I am still unable to shake off or limit my gluten intake. So I decided to call this 3 day meal plan a "detox" of sorts as it was really more of a gluten free, dairy free (no yoghurt or kefir), no-extra-sugar-added plan.
Juices, smoothies, soups, veggies and fruits – that is all this plan consists of. I thought this would be a little more substantial than just a juice or smoothie diet and will keep my fibre intake high. After all, an essential part of detox is elimination.
Did this make a difference for me? I actually had a dull headache on the first day which I did not expect. I have generally been a clean eater but this actually humbled me:) A headache usually suggests that the body is getting rid of toxins. I realized that "sludge" does collect in the body over days of not being careful. Over the following two days I noticed my face become clearer. But after 3 days I still felt a bit tired, and not very refreshed. I should have continued on probably or it may have been that 3 days wasn't enough to completely rid my system of the gunk. Regardless I knew that this was something I should continue with and not limit it to 3 days of "detoxing" – rather it was going to be 365 days of "clean eating" moving forward.
I have been documenting this live on my Facebook and Instagram pages but for those that wanted to follow along on your own time, here is a day by day recap with a shopping list and recipes.
Shopping List for the 3 Day Detox (for 1 person). 
Yes I ate all these over 3 days!!
Lemons – 5
Ginger – 1
Organic Kale – 1 small bag
Organic Spinach – 1 small bag
Organic Celery – 1 bunch
Romaine or other green lettuce – 1 bunch (optional)
Parsley – 1 bunch
Cucumber – 2
Carrots – 3
Fresh Turmeric – if available
Fruits like cherries, grapes, peaches – 1 cup each (any fruits are fine for snacking)
Organic Navel Oranges – 6
Green apples – 3-4
Bananas – 2-3
Asparagus – 1 bunch
Avocados – 4
Sweet Potato – 2
Cauliflower or Cauliflower Rice Readymade Bag (Trader Joe's) – 1
Cabbage – 1/2 (optional)
Coconut Milk
Dates
Chia seeds
Tomatoes – 5
Onions (red or white) – 3
Red Bell Pepper – 1-2
Cashews
Organic Vegetable Stock Cubes or Homemade (Optional)
Spices for soups and Rasam – cumin powder, rasam powder, mustard seeds, bay leaf, cinnamon
Keep in mind that this list does not have to be followed exactly. A lot of this ingredient list was in my fridge already as this was sort of an impromptu detox. If you do follow along, keep in mind that you can improvise. You may use spinach for 2 days in a row or kale etc. But always, always ROTATE YOUR GREENS. Do not use the same greens in your juice or smoothie for more than two days in a row, make sure to throw in a variety.
So this list is only directional to give you an idea of what to eat. For example, for snack you could have orange segments or apple segments or grapes, whatever fruit you have on hand.
For dinner you could make a sautéed veggie stir fry on the final day – it does not have to be cabbage. But the smoothies and juices did have an immediate detoxing effect so I will suggest you try to use the recipes for those.
Day 1 Recipes:
Morning Tonic : (Adapted from Food Matters 3 Day Summer Detox Morning Tonic Recipe).
Drink this tonic as soon as you wake up in the morning. Helps jumpstart the digestive juices or agni (fire)in your gut. Lemon is alkalizing and prepares the gut for detoxing. Ginger helps with digestion.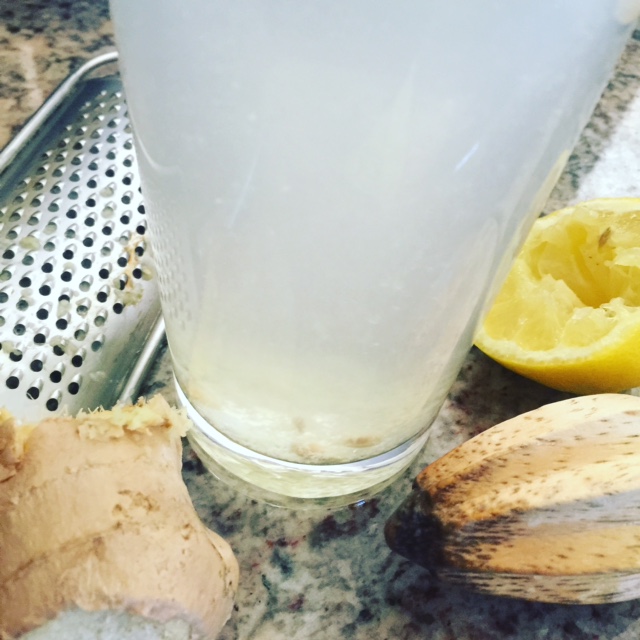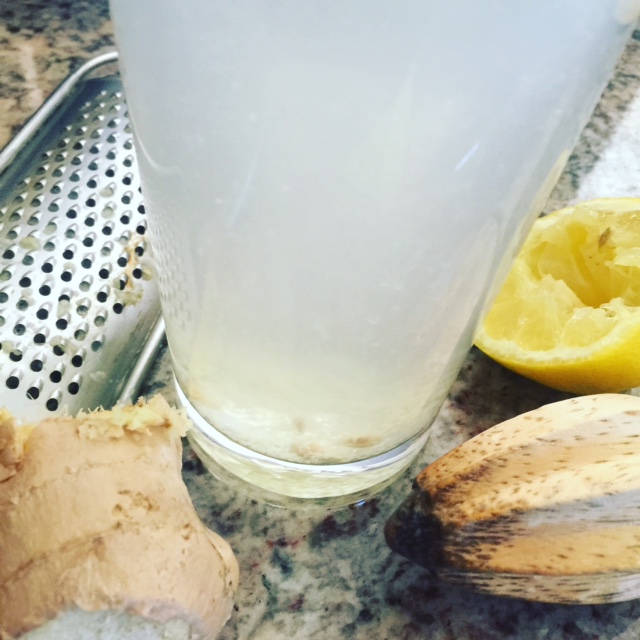 Take a 12-16 oz glass of warm water. (should not be hot but lukewarm)
Squeeze the juice of half a lemon in the water.
Grate about half inch of the ginger root, and squeeze the juice into the water, using your hands
Mix well and sip slowly.
  Breakfast:
Green Juice:
Kale – 1 big bunch
Celery – 3-4 sticks
Juice of half lemon
Ginger – 1 -2 inch
Cucumber – 1/2
Parsley – 1 bunch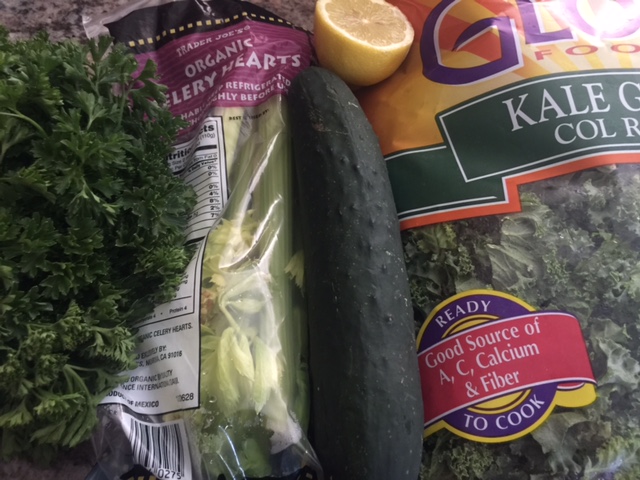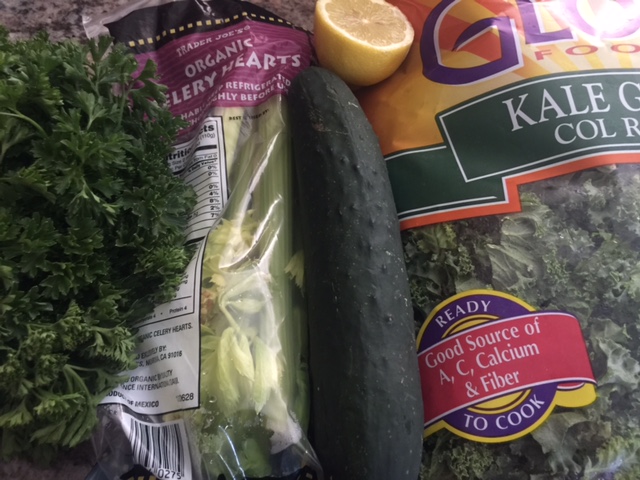 Run the above through a slow juicer or a cold pressed juicer.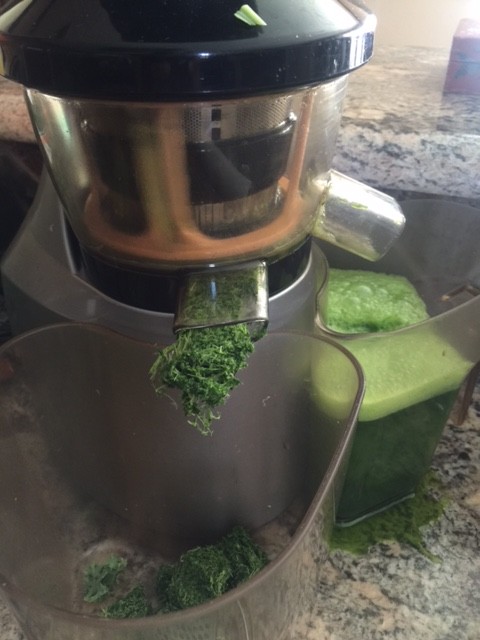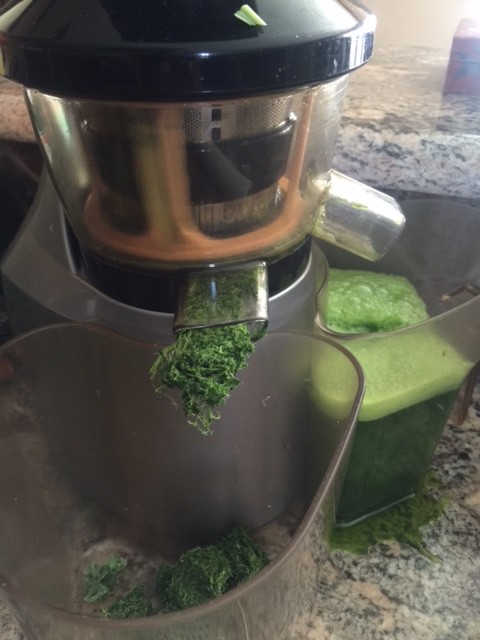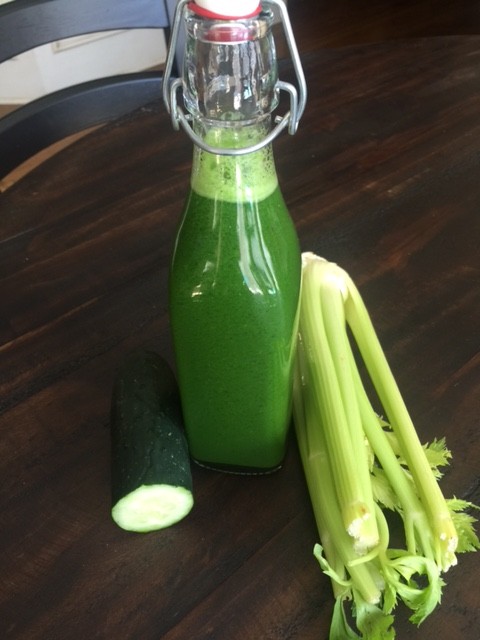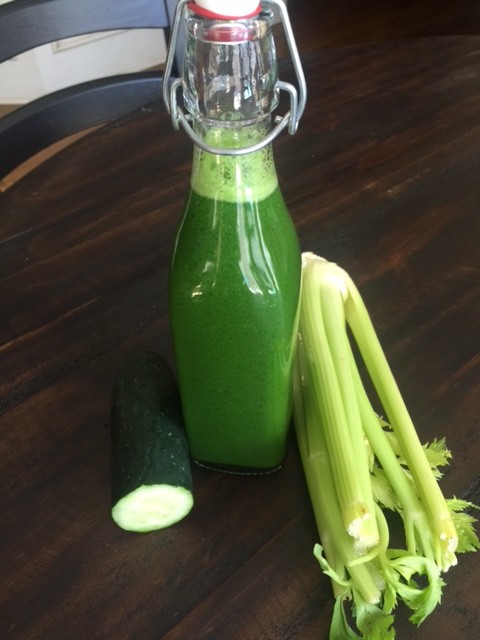 Mid Morning Snack:
1 cup of cherries.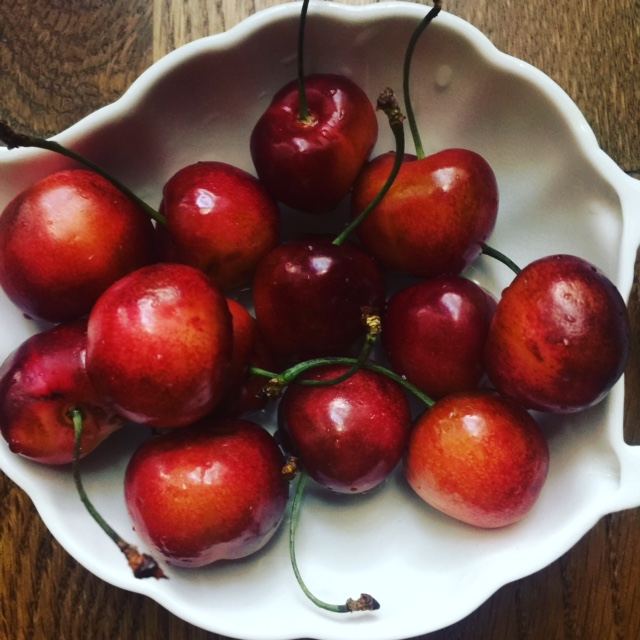 Lunch:
Roasted Asparagus with Dreamy Creamy Avo Dressing
Preheat oven to 400F. Chop the woody ends of 1 lb of asparagus and place flat on a baking tray. Spray some EVO with sea salt and black pepper.
Roast for 20 minutes until the asparagus is soft.
Take an avocado, chop in half. Place in blender.
Add 1 small garlic clove, 1 tbs fresh dill (optional), 1/2 tsp sea salt, 2 tbsp lemon juice and 1/4 cup water.
Blend until creamy and smooth.
Pour this over the asparagus and enjoy!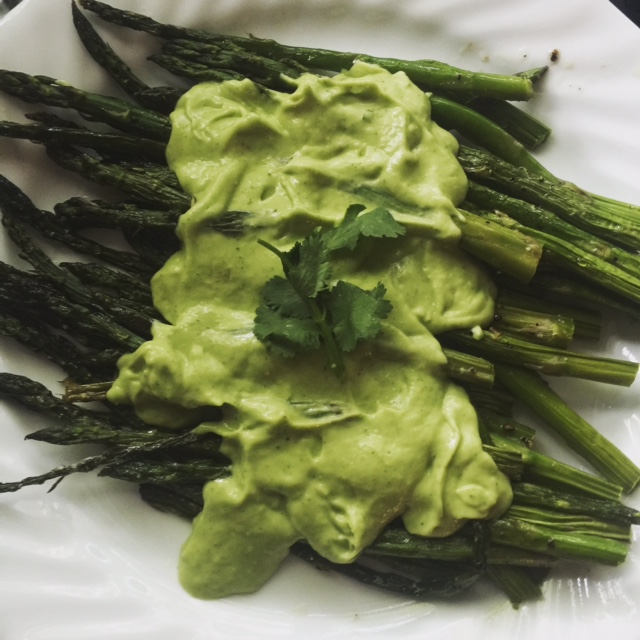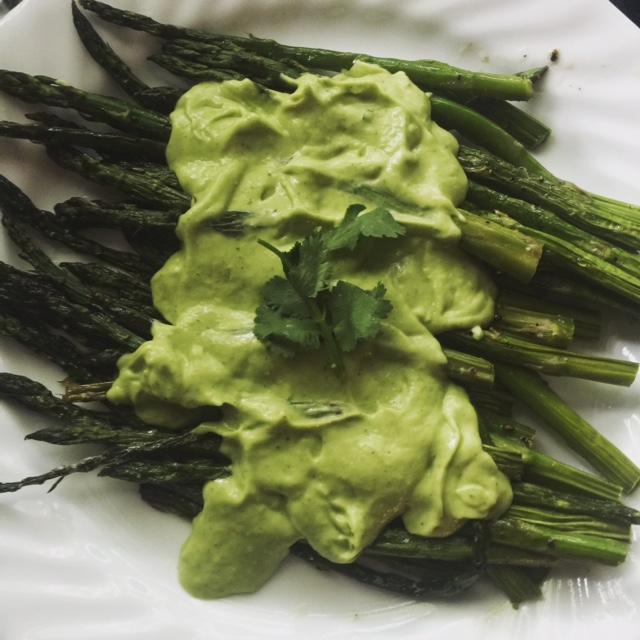 Mid Afternoon Snack:
Banana Date Chia Pudding:
Blend 1 banana, 3-4 dates, 1 cup coconut milk and 2 1/2 -3 tbsp chia seeds in a blender.
Chill for 15 minutes.
Scoop and enjoy!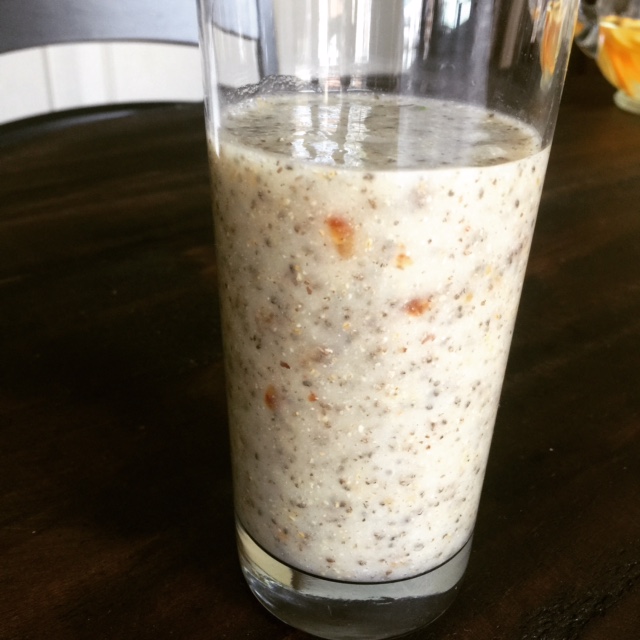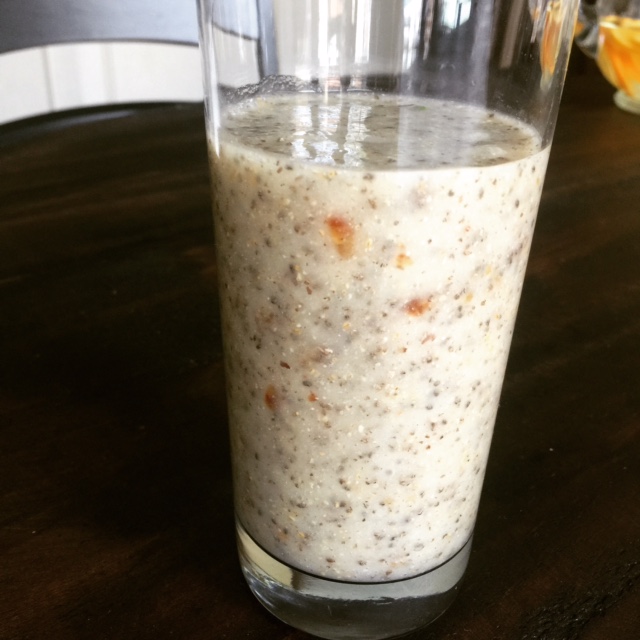 Dinner:
Vegan Creamy Bell Pepper and Tomato Soup
Preheat oven to 400F
Halve 2 tomatoes and 1 red bell pepper. You may also use 1/2 each of green and red bell peppers.
Spray with EVO, salt and pepper.
Soak 1/2 cup cashews in hot water for 10 minutes.
Roast for 20 -25 minutes until soft and done.
Take the roasted chopped vegetables in a blender, add the cashews.
Make 1 cup of vegetable stock by dissolving 1 organic vegetable stock cube, or 1 tbs of Better than Bullion veg stock paste in 1 cup of hot water. Alternatively make your own vegetable stock by boiling veggie scraps in hot water and straining.
Add the vegetable stock to the blender with the veggies and cashews. Blend on variable speed (in Vitamix) for 1 minute and then on high for a minute.
Pour into soup bowls and enjoy hot!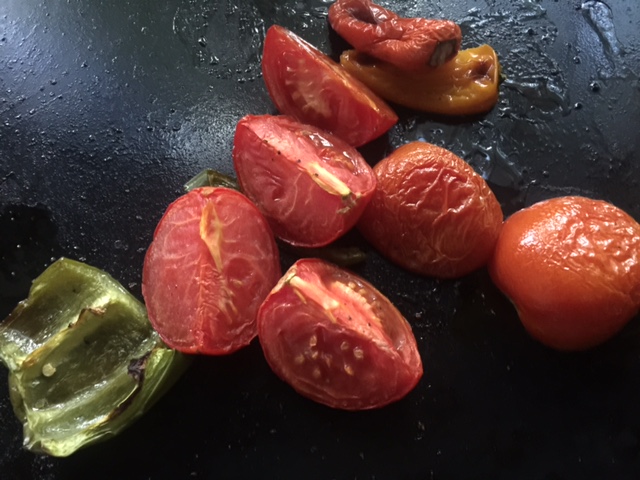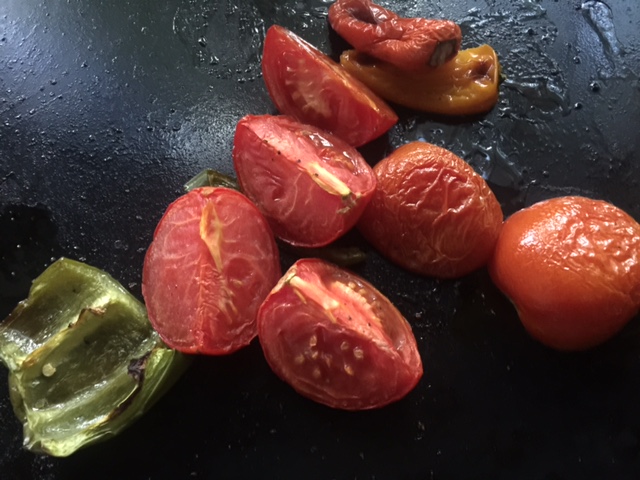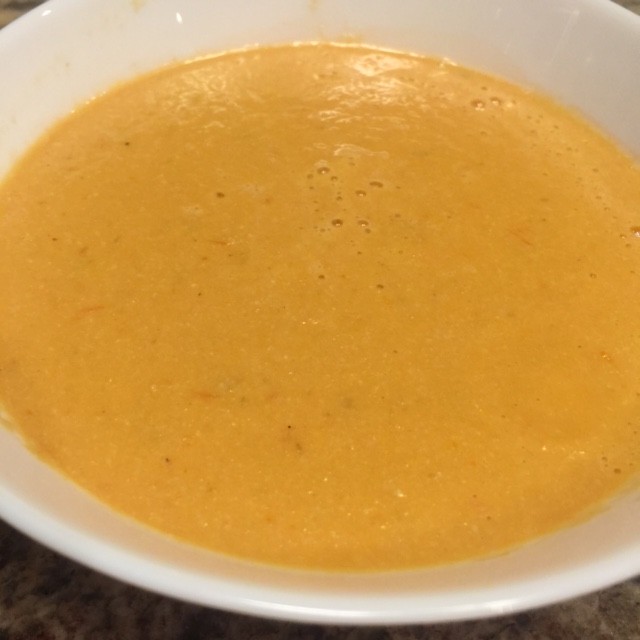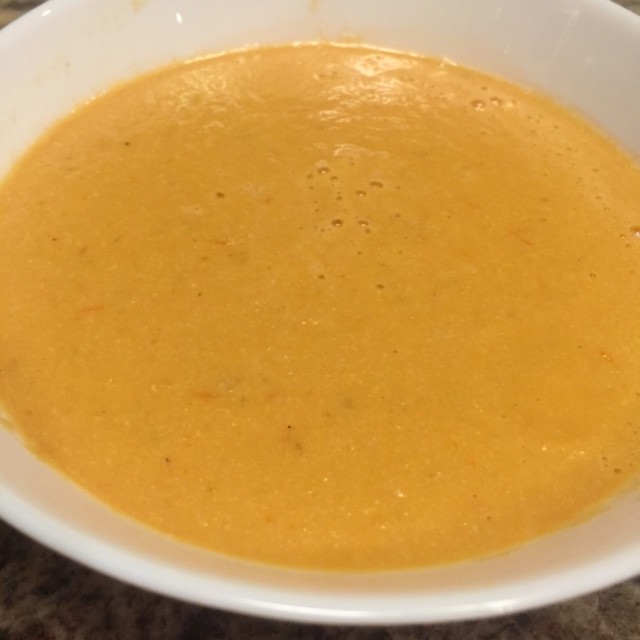 Next Up : #3DayDetox Day 2