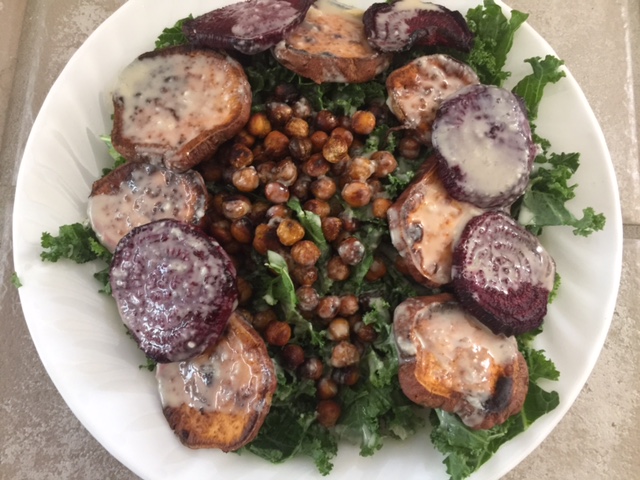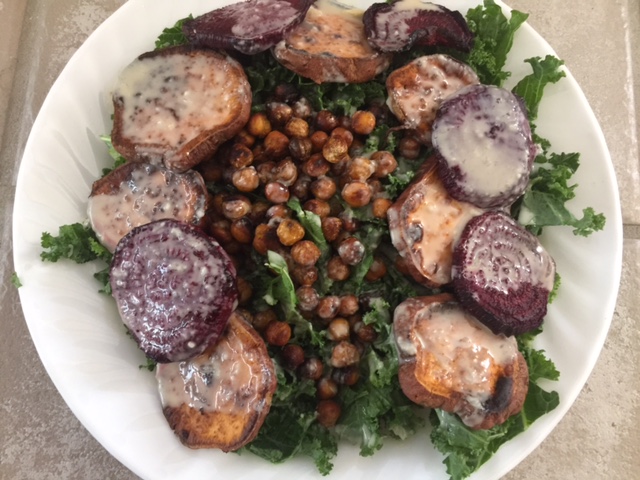 After festival food and carb/sugar binges, I thought it was fitting to get into some clean eating and simple(r) recipes.
This recipe for chickpea sweet potato salad was a tip off from my cousin who in turn tried it from the Minimalist Baker blog. A super satisfying salad, in my cousin's words. Spot on.
This salad is a combination of hearty, zesty, not too salty not too sweet and yet – super satisfying:)
I added roasted beets to the original recipe and it only enhanced the flavor I think. Perfect accompaniment for the season. I also added "Tava Fry" Masala instead of the "tandoori masala" in the original recipe. The result was a roasted Indian chickpea or a "chana jor garam" (Bombay street food dish with roasted and spiced chick peas in a "chaat" style) kick to the salad. The original pictures from the Minimalist Baker do the salad more justice but I did want to capture the final product before I devoured it for lunch today. Perfect for a one person lunch menu (or more of course but I made a single serve portion).
Ingredients for Chickpea Sweet Potato Salad (for serving one)
1 large sweet potato, sliced into thin rounds with skin on
1 medium beet, sliced into rounds
Soaked and boiled chickpeas
2 Tbsp coconut oil or EVO
2-3 Tbsp MDH Tava Fry Masala
1/8 tsp sea salt, plus more to taste
1 tsp coconut sugar
1/4 tsp turmeric
2 cups chopped kale, massaged with lemon juice
optional: 2-3 Tbsp roasted lightly salted or unsalted pumpkin seeds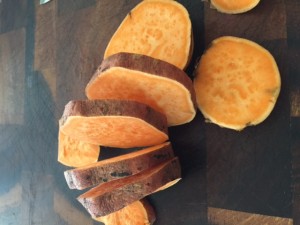 DRESSING
1/4 cup tahini
1 Tbsp maple syrup
1 small lemon, juiced
1-2 Tbsp hot water to thin, if needed
Preheat oven to 400 degrees F and line a baking sheet with parchment paper.
Add chickpeas to a small mixing bowl and toss with 1 Tbsp oil, tava fry masala, salt, coconut sugar, and turmeric (optional). Place on one half of baking sheet.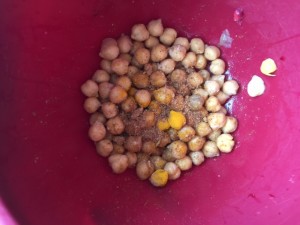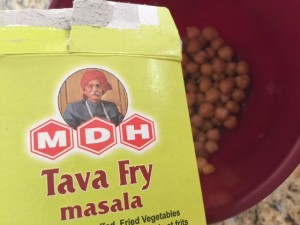 Brush the sweet potato rounds and beet rounds with remaining 1 Tbsp oil. Sprinkle with a bit of salt and arrange in a single layer on the baking sheet on the other half.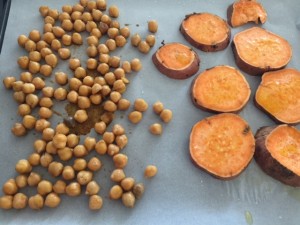 Bake for 20 minutes, then stir the chick peas and flip the sweet potatoes and beets to ensure even browning. Bake for 10-15 minutes more, or until beets and sweet potatoes are tender/slightly brown and chickpeas are firm and crispy.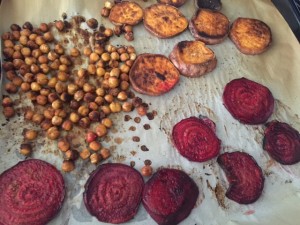 Now make the dressing. In a small mixing bowl, add tahini, lemon juice and maple syrup and whisk well. Thin with hot water if needed. Adjust seasoning to taste. Set aside.
Cool the baked/roasted ingredients for a few minutes.
To serve, first massage kale. I added the juice of half a lemon and literally massaged the kale leaves with my fingers, till the leaves start to soften a bit, but this breaks down the cellulose and really brings out the taste of kale. Top with sweet potatoes, beets, chickpeas, and pumpkin seeds (optional). Add dressing or serve on the side.