We're about halfway through the festival of nine nights or Navaratri and I could get used to this routine:). Its crazy times and I feel like I am in the kitchen way early in the morning making the Prasadams with Amma, but the feeling after is priceless. The daily pujas bring an energetic and positive start to the day and it's rejuvenating to hear the sound of laughter and chatter when ladies come home in the evenings for the haldi kumkum or the vermilion, sing songs and partake of the gifts and snacks. It's definitely festive and full of positivity – something we all need in these current times:)
The Devi incarnate that we worship on Day 5 is Skandamata. She is also a form of Parvati, is four armed and rides on a lion. She holds her son Skanda or Kartikeya on her lap, the commander in chief in the war against demons. She is the giver of boons and provides refuge. She symbolizes progeny and prosperity. She is Shakti who has risen to the Vishuddhi Chakra or the Throat Chakra(5th chakra).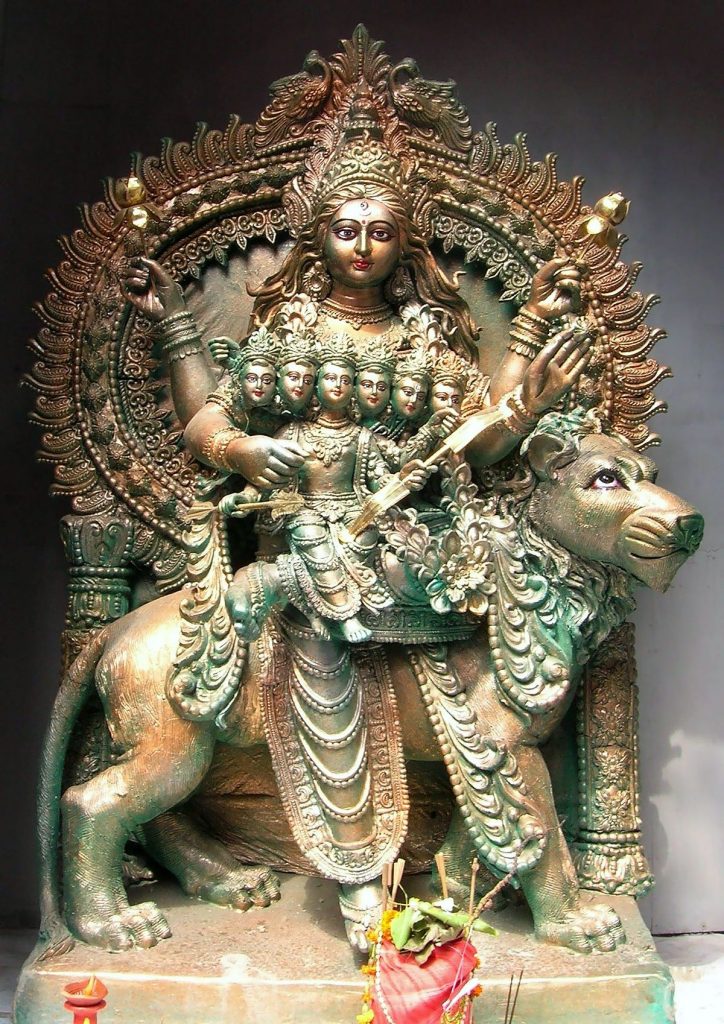 The #DeviPrasadam for Day 5 is as follows:
Paal Payasam
Thayir Saadam or Tempered Yoghurt Rice
Peanut Sundal
Recipe for Paal Payasam: (One Pot One Shot Method):
Basmati Rice – 1/4 cup
Palm sugar – 1/2 cup
Whole milk – 500 ml or about 2 cups
Ghee – 2tsp
Method:
Soak the rice for one hour.
Take a 3L stainless steel pressure cooker, smear the ghee at the bottom.
Add the soaked and drained rice, rice and milk.
Cover the cooker and cook on medium heat for about 25 minutes.
Wait for the pressure to release, open the cooker and you can again simmer for 10 minutes if you want the consitency to be thicker.
Now turn the cooker off, add the sugar, close the lid and keep the pressure cooker weight back on.
Keep it closed for upto 30 minutes; the sugar will blend in and cook within the pressure. Do NOT turn the heat back on.
Open, add cardamom powder and saffron as desired.
Recipe for Yoghurt Rice:
Ingredients:
Basmati Rice – 1 cup
Yoghurt – 1 1/2-2 cups ; adjust consistency
Salt to taste
Chopper cilantro – 1tbsp
For tempering:
Mustard seeds – 1 tsp
Urad dal – 1 tsp
Chana dal – 1 tsp
Curry leaves – a few
Crushed green chilies – 1tsp
Crushed ginger – 1 tsp
Asafetida – a pinch
Method:
Mash the rice well and mix the yoghurt; you can add a little water to adjust for consistency.
Heat oil and add the ingredients for tempering.
Add to the yoghurt rice. Garnish with chopped cilantro.
Recipe for Peanut Sundal : You can find this here on an old Navaratri blog post