On the 6th day of Navaratri, Goddess Katyayini is worshipped. A warrior Goddess, she is associated with the fierce forms of Shakti or Durga. She is often seen holding a shining Chandrahasa (Sword) and in the company of a magnificent lion, destroying demons with her skill and the power of her third eye. The demons represent the negative traits within us and the essence of the Goddess is to destroy the negativities and inner conflicts that torment us to allow us to grow and get to know our true self.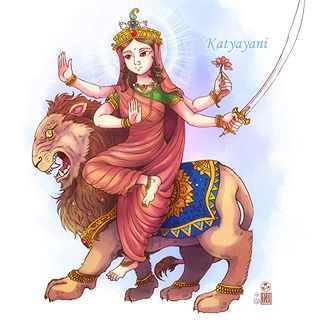 The Devi Prasadam for the 6th day is:
Lemon Rice
Wheat Rava Or Daliya Payasam
Kabuli Chana or Garbanzo Beans Sundal
Recipe for Lemon Rice:
Basmati Rice – 1 cup (You may also try this with Sawa Millet or Barnyard Millet)
Lemon Juice – 4 tsp
Salt to taste
Asafetida – 1/2 tsp
Tempering
Oil – 2tbsp
Mustard Seeds – 1 tsp
Red chilies – 2-3
Chana Dal or Bengal gram dal – 2 tbsp
Curry leaves – a sprig
Garnishing:
Oil – 1tsp
Cashews and peanuts – 1 tbsp
Method:
Cook the rice first; ensure that you don't use too much water as the grains should be separate.
Add the lemon juice, turmeric, green chilies, salt and asafetida.
Heat oil, temper the ingredients till the dals turns light brown. Add to the rice.
Mix well.
Recipe for Wheat Rava Payasam (One Pot One Shot)
Ingredients:
Wheat rava or Dalia – 1/4 cup
Jaggery  – 1/2 cup (Update: I tried making this with coconut sugar but the taste is not as authentic as it is when you use jaggery)
Coconut milk – 1 cup (Use the canned milk or extract coconut milk from grated coconut; the carton ones are too light to be used in this recipe)
Ghee – 1 tsp
Cashew nuts – 6
Cardamom – 1
Salt – a pinch
Method:
Smear ghee at the bottom of a 3L pressure cooker.
Next add dry roasted wheat rava to it.
Carefully add 1 cup water, pinch of salt.
In the middle of this, place a smaller vessel and in this, keep the jaggery with about 1/4 cup of water.
Close the lid of the pressure cooker and pressure cook for 3-4 whistles in medium flame.
Let the pressure settle, open the cooker and add the contents of the small vessel to the larger vessel.
You can continue to boil in low flame for 5 minutes if you prefer a thicker consistency.
While on a  low flame, add thick coconut milk and stir well. Add powdered cardamom, roasted cashew nuts.
Recipe for Kabuli Chana Sundal:
Boiled Kabuli Chana or Garbanzo beans or Chickpeas – 1/2 cup
Coconut grated – 2 tbsp
Coconut oil – 1 tsp
Salt to taste
To be ground into powder:
Coriander seeds – 1/2 tbsp
Chana Dal – 1/2 tbsp
Red chilies – 2
Tempering:
Mustard seeds
Curry leaves
Asafetida – a pinch
Method:
Soak the chickpeas overnight in enough water
Boil the next day in a pressure cooker and cook for about 3 whistles on medium heat.
Dry Roast and grind the ingredients listed to a powder.
Heat coconut oil in a pan and add the ingredients for tempering.
When the mustard seeds splutter add the boiled chana and then add the ground powder
Stir for a few minutes on medium heat till the ingredients are well mixed. Add salt to taste
Add the grated coconut and chopped cilantro if needed.