On the 8th day of Navaratri, we worship Devi Mahagauri. Her lower right hand holds a trident and the upper right hand shows like it is allaying fear.
She is radiant, graceful and compassionate, Maa Mahagauri is usually depicted in a white riding a bull. She is the other Extreme of Kalaratri, which was terrifying and devastating.  Mahagauri is the most serene form of the Mother Divine 
and is the epitome of beauty. She confers and fulfils all your wishes and desires and has a calming effect on the lives of Her devotees.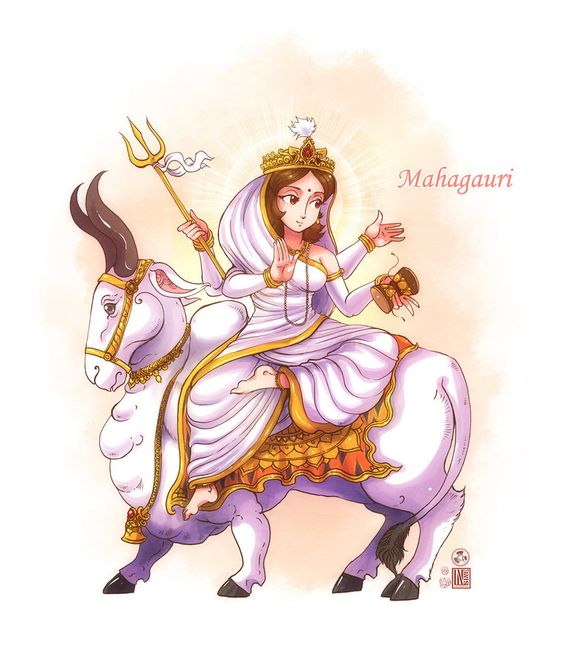 And here is the #DeviPrasadam for Day 8:
Kalkandu Saadam
Ellu Saadam or Spiced Sesame Rice
Bengal Gram or Chana Dal or Kadalai Paruppu Sundal
Recipe for Kalkandu Saadam:
Ingredients:
Raw Rice – 1/2 cup

Moong dal – 1 1/2 tbsp

Milk – 1 1/2 cup

Rock sugar candy/Kalkandu – 3/4 cup

Ghee – 3 1/2 tbsp

Cashew nuts – 8-10

Raisins – optional

Cardamom Powder – 1/4 tsp

Saffron – 2-3 strands
Method:
Dry roast rice and dal separately.
Cook the rice and dal with 1 cup of milk and water for 3 whistles.
Wait for the pressure to release; then mash the dal and rice when hot.
Add the remaining milk and mash well.
Fry the cashews in ghee.

Add the Kalkandu or rock sugar candy and cook on medium heat until the sugar candy dissolves.

Add the ghee and cardamom powder, saffron and mix well.
Recipe for Ellu Saadam:
Black sesame – 2 1/2 seeds
Basmati rice – 1 cup
Dry Arbol chiles – 5-6
Urad dal – 1 tsp
Salt to taste
Sesame Oil – 1 tbsp
For tempering:
Oil – 1 tsp
Mustard seeds – 3/4 tsp
Urad dal – 1 tsp
Curry leaves – a sprig
Method:
Cook the rice. Cool and transfer to a bowl.
Add salt to taste and the sesame oil.
Roast urad dal and the dry arbol chiles in 1 tsp oil. Set aside
Roast the sesame seeds until it pops. Keep stirring on a low flame until the popping stops.
Grind the urad dal and red chiles first coarsely. Then add the sesame seeds to this and grind again.
Temper the items meant for tempering in a separate pan
Add the tempering to the rice; then add the powdered mix. Mix well.
Recipe for Kadalai Paruppu Sundal
Ingredients:
For grinding:
Grated coconut – 1/2 cup
Green chiles – 2
For tempering:
Oil – 2 tsp
Red chiles – 2-3
Mustard seeds – 1 tsp
Curry leaves – a few
Lemon juice – 2-3 tsp
Salt to taste
Method:
Soak the bengal gram in water for 2-3 hours.
Pressure cook for 2 whistles on medium heat; with some added salt
Heat oil and temper the ingredients given.
Add the bengal gram dal; then add the coconut green chile ground mixture. Mix well.