Growing up, Pongal was one of my favorite festivals. As with the many festivals we celebrate in India, I loved the fact that we got to stay home and eat amazing food, and binge on Sakkarai Pongal:).
Pongal, as explained in my earlier post, is akin to Thanksgiving, marking the Harvest festival and obeisance to the Sun God. It is celebrated in South India as Sankranthi and in the North as Lohri. Sakkarai pongal is one of my all time favorite sweet dishes and I've been known to indulge in spoonfuls, um cupfuls of this dish laden with rice, sugar and ghee (clarified butter). I've tried to make a healthier version of Sakarai pongal with less ghee but the taste isn't the same. I've given in and this is the version I've grown up with – it's Amma's version, which also happens to be my favorite recipe for Sakkarai Pongal.
We made the traditional venn pongal, Sakkarai pongal, vadai and Poli today to mark the Pongal and the Sun God must have been happy…it was such a bright and sunny day in Texas:).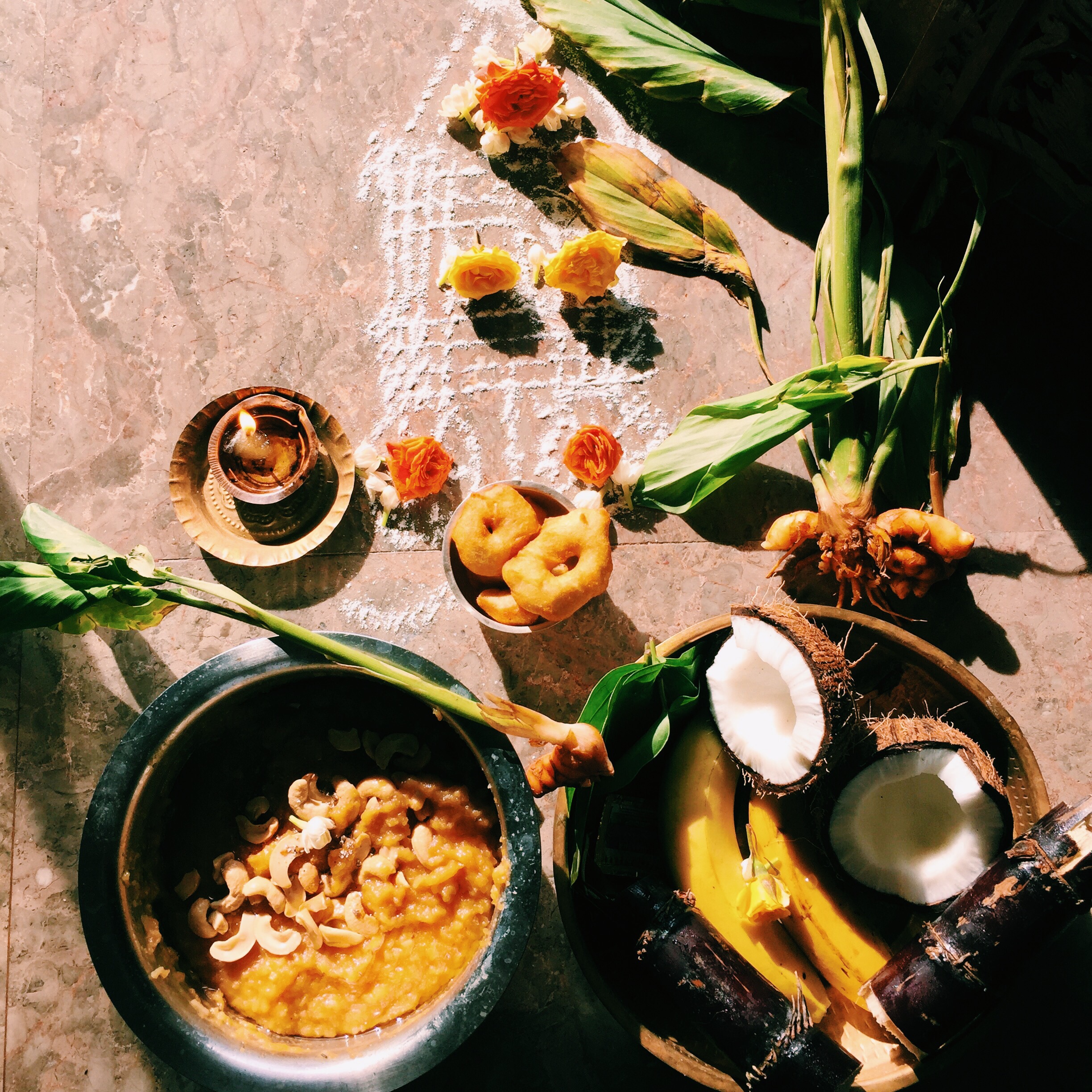 Ingredients:
Rice – 1 cup
Moong dal – 1/3 cup
Jaggery – 3 cups
Milk – 1 cup
Water – 3 1/2 cups
Cashews, raisins, for garnish
Cardamom, crushed – 1 tsp
Ghee – 1/4 cup (you can use about 2 tbsp if you need less, but remember that the more ghee the better this tastes:)
Method:
1. Dry roast the moong dal till it is fragrant and turns light brown.
2. Add the rice and mix well.
3. Wash the moong dal and rice with water and drain.
4. Mix the water and milk in a large container and heat on a medium flame. When the mixture begins to boil, add the rice and dal and stir well.
5. After about 10 minutes, transfer this to a pressure cooker and cook for about 5 whistles. (If you don't have a pressure cooker, you can keep cooking it on the stove, while stirring. Make sure you keep the stove flame really low so as not to burn the mixture.)
6. Meanwhile, melt the jaggery in 3 1/2 cups of water on low heat. When the jaggery dissolves completely, strain the mixture to remove any impurities in the jaggery.
7. Continue to cook the strained mixture on a low heat until it caramelizes and becomes "stringy".
8. Take the rice out of the cooker now, mash it well. Add this to the jaggery mixture and mix very well until its blended.

9. Now add some ghee and the crushed cardamom.
10. Lightly fry the cashews and raisins in ghee and add this to the pongal as garnish.
Vadai (fried lentil doughnuts)
Ingredients:
Urad dal, soaked in water for about 1/2 hour – 1 cup
Grated ginger – 2 tbsp
Green chilies – 5
Cilantro, chopped – 1/2 cup
Method:
1. Wash the grad dal well and soak it in water for about half hour.
2. Drain the water and keep it in a separate bowl.
3. Grind the soaked dal with the ginger and green chilies to a fine paste.
4. Make sure to grind the dal little by little with very little water until it resembles a smooth paste.
5. Add chopped cilantro and curry leaves if needed.

6. Heat some oil in a round bottomed vessel, kadai.
7. Take the ground dal paste on your palm, flatten a bit and make a hole in the middle (like a donut hole)

8. Add this to the hot oil and deep fry till golden brown.
9. Enjoy hot with some sambar and chutney!