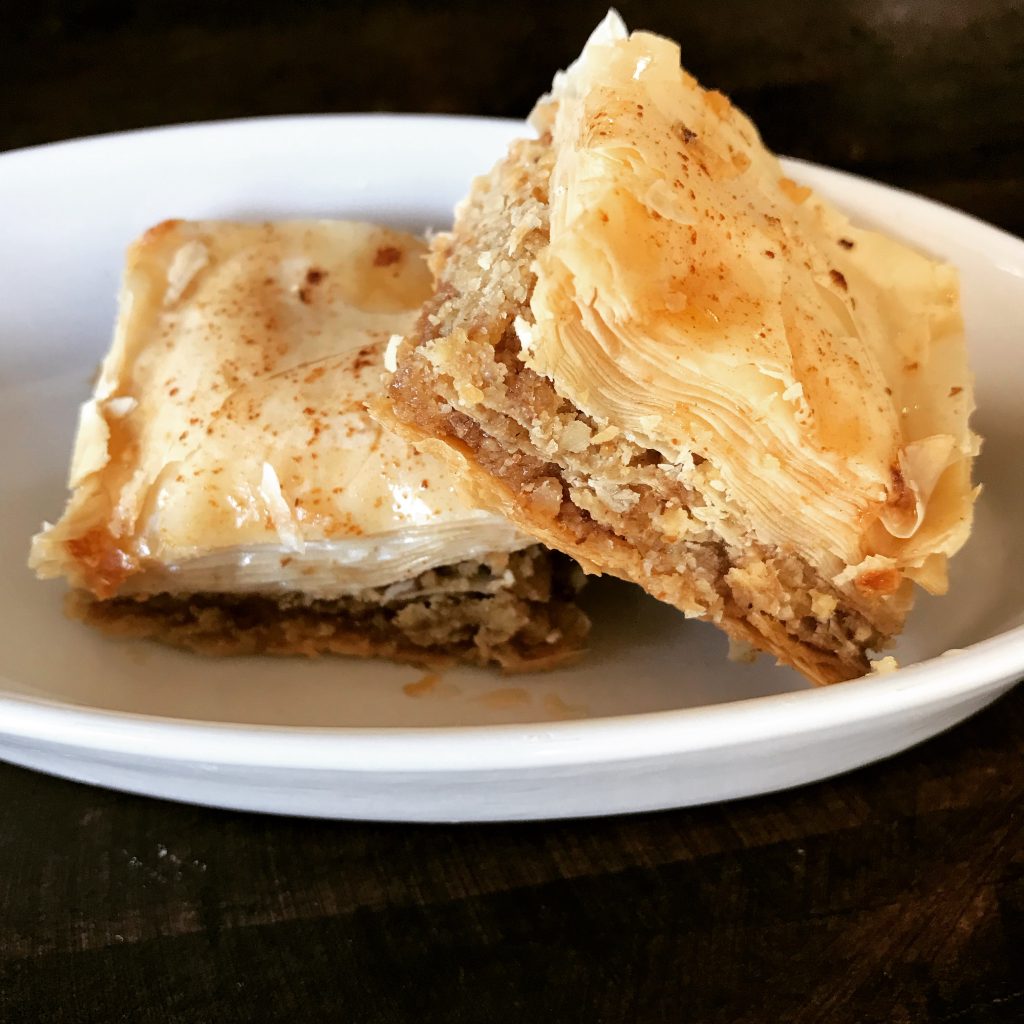 This is one of those recipes that I had filed away under "Must try but sounds complicated" – in other words – The Later Stash:)
Until I had it recently at a dear friend's party. I asked where she catered the baklavas from and she very casually said she made them herself. All 120 pieces of them! This was my friend Uma's (read her recipes here) sister-in-law and of course Uma makes this at home as well. So we decided on a cold sleety afternoon, yes Texas has those too – to make this a winter afternoon cooking project.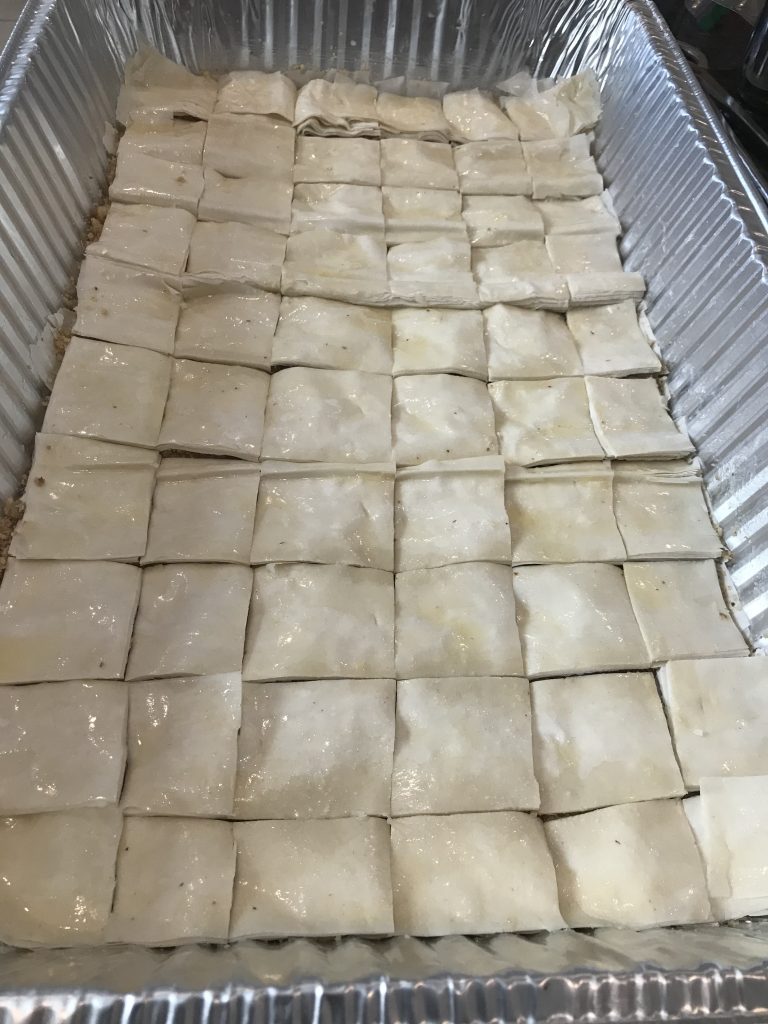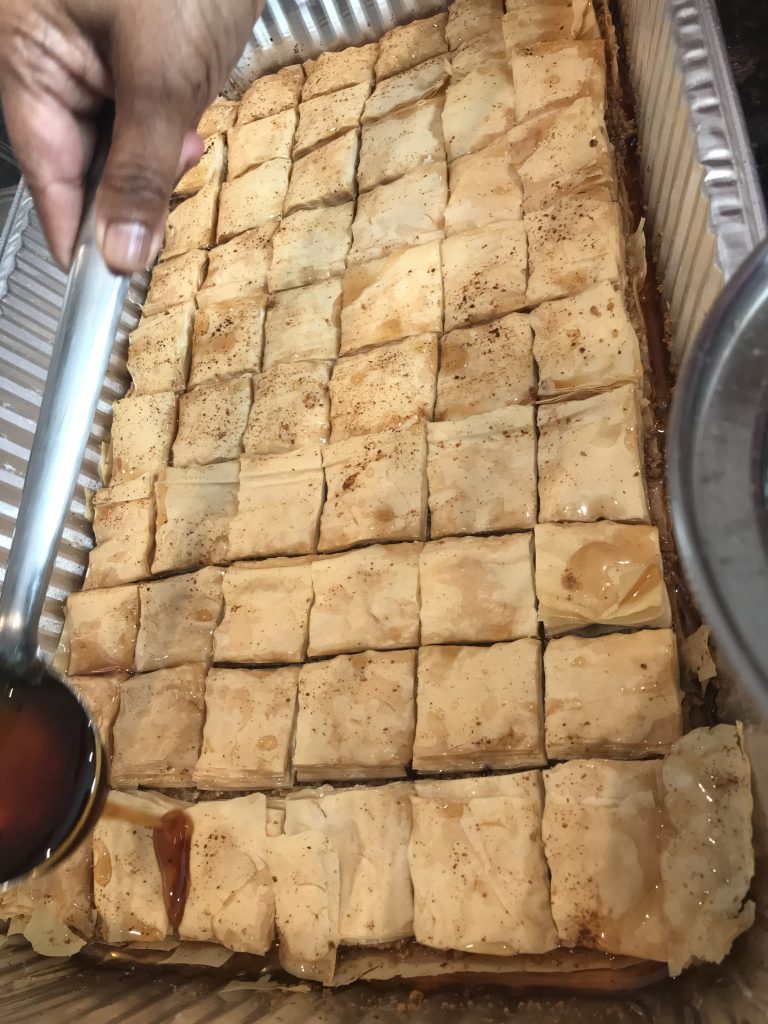 Honey and Walnut Baklava - A Traditional Middle Eastern Dessert
Author:
The Mindful Veggie
Ingredients
1 sheet of frozen phyllo dough (I used this brand called Apollo Phyllo dough available at the Indian store)
1 lb walnuts or pecans or a mix of both (approx 4 cups) - I only used walnuts in this recipe
2 cups sugar (I used organic cane sugar from Costco)
1½ sticks of butter
½ cup raw organic honey
1 tsp cinnamon powder
1 tsp lemon juice
Instructions
Thaw the phyllo dough for about 6 hours.
Melt the butter over the stove or a microwave until it is all melted - make sure it doesn't brown or turn into ghee
Prepare the sugar syrup honey mixture. Take 1½ cups of sugar; add 1 cup water and let it boil. Once it begins to boil heat it for about 10 minutes. Then add the 1 tsp lemon juice and ½ cup of honey. You may also add some cinnamon powder if you like the taste. Set aside.
Prepare the nut mixture. Take the walnuts in a blender and coarsely blend to a powder.
Add ½ cup sugar to this and the cinnamon powder. Divide the mixture into 4 portions.
Now begin the layering and assembly. Take the tray and butter the sides and bottom.
Add about 8 sheets of phyllo dough carefully. Butter this layer with a brush.
Now add the nut mixture. Then add about 2 layers of phyllo dough again.
Repeat this about 4 more times, with 2 layers of dough in between the butter and nut mixture layers.
Top this with another 8 layers of phyllo dough. Make sure to brush the butter on each layer of dough.
Also while you are layering, ensure that the remaining unused phyllo dough is kept covered with a towel or cloth so it doesn't dry out. This is also why we add a good layer of butter with each dough layer so it doesn't dry.
Once you have the topmost layer buttered, begin to cut the sheets carefully with a sharp knife. Cutting before baking ensures you get equal layers.
Bake in a pre heated oven at 325F for 50 minutes to 1 hour, until the top begins to get light or golden brown.
Remove from oven and immediately pour the sugar honey mixture while the tray is still hot. Ensure that you pour the liquid between the cuts and the edges so the syrup seeps into the layers well.
Let cool for a few hours or even overnight.
Cut again when completely cool and store in airtight containers.
30 minutes of prep time and about 50 minutes of baking was all it took for a full tray of baklava or 45-60 pieces of them to be ready. Just the right amount of buttery, flaky, nutty flavors to create this indulgent pastry. I should call this post – The Baklava Demystified – I will be making this often for sure.