When you truly try to understand or wrap your head around why we follow certain traditions and how our customs originated, you realize there is incredible logic to how our ancestors celebrated our festivals and worshipped the way they did. And I know we only scratch the surface of what the real significance could have been.
The idea of honoring the feminine within – the qualities of compassion, benevolence, patience, forbearance and so on and dealing with our own inner conflicts of arrogance, ego, jealousy and others that surface from time to time.
The stories of the Divine Goddess vanquishing the demons of arrogance and ego is exactly that – the inner battles we often face and how to be mindful of those and emerge in equanimity. Navaratri is the time to honor and worship these qualities. Also the reason why we worship the different forms of the Goddess for the nine nights – to celebrate the Goddess within.
This was shared with me by a friend and I thought it eloquently captured what I understood about the festival.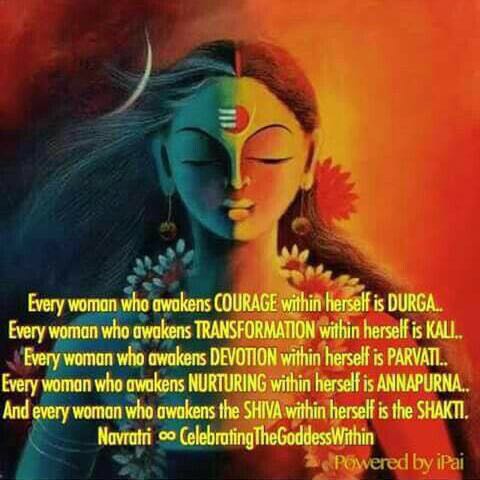 So for day two, we worship Brahmacharini, the austere. She wears a white sari, walks barefoot on bare foots while holding kamandalu (water pot) in her left hand and rosary in her right hand. She is the epitome of extreme tolerance and steely determination, and blesses her followers with unshakable grit and motivation.
The following Prasadams will be made on day 2:
Puliyodharai (Tamarind Rice)
Thengai Mangai Pattani Sundal (White Chana Sundal with coconut and raw mango)
Recipe for Puliyodarai :
How to make OPOS Pulikachal (One Pot One Shot recipe made in the pressure cooker): Adapted from Chitra Viswanathan app. You can also try this traditional non OPOS recipe by my dear friend and blogger Mythili Rajesh at this blog. Both yield great results.
Ingredients:
1/2 cup raw Tamarind
1 cup water
1/4 tsp fenugreek powder (methi powder)
1/4 tsp asafetida or hing
1/4 tsp turmeric or haldi
6-8 broken dry red chilies
1 tsp coriander or dhaniya powder
1 tsp jaggery
Salt to taste
4 tsp lentil or dal powder (fried gram dal or pottukadalai)
4 tsp gingelly oil
For tempering:
1 tsp mustard seeds
1 tsp urad dal
1 tsp bengal gram dal
1/4 cup roasted peanuts
Cooked rice – 1 to 1 1/2 cups
Method:
Mix all the ingredients (except for those for tempering) in a 2-3 L stainless steel pressure cooker. Cook on a medium flame for 12 minutes or 4 whistles. Let the pressure settle. Open on cooling.
Mix this paste with cooked rice.
Heat some oil, add the ingredients for tempering. When the mustard seeds crackle and urad dal turns brown, add the tempering to the rice and above pressure cooked pulikachal paste. Mix well. You can garnish with more roasted peanuts as needed.
Recipe for Thengai Mangai Pattani Sundal:
Ingredients:
White peas – 1/2 cup
Raw mango – 1/4 cup ( grated)
Grated coconut – 2 tbsp
Green chilli –1-2
Ginger – 1/2 inch piece
Hing/Asafetida – 1/4 tsp
Red chilli – 1
Salt – to taste
Oil – 1 tbsp
Lemon juice – 1/2 tsp
Cilantro  – as needed to garnish (optional)
For tempering:
Mustard seeds – 1 tsp
Urad dal – 1 tsp
Curry leaves – a sprig
Method:
Soak the white peas overnight. The next day, pressure cook by adding enough water and salt – cook on a medium flame for 2 to 3 whistles. Drain and set aside.
Grind the coconut, ginger and green chili to a slightly coarse paste without adding water.
Heat oil, add the ingredients for tempering. Now add the cooked peas.
Add the ground paste and required salt. Mix well for few minutes. Turn off the heat and drizzle some lemon juice. Mix well.
Add the grated raw mango and mix well. Garnish with chopped cilantro.
Don't forget to check @madetolovemagic on Instagram for day by day recount of the Devis. Also follow me on Instagram and Facebook for the daily pictures of the prasadams and step by step account in Instagram stories. You can join me here @themindfulveggie.