This is my fourth year celebrating Navaratri with Bomma Golu or "Court of Dolls" where display dolls, figurines, court life, everyday scenes are displayed in the divine presence of the Goddesses. In South India, a set of dolls called 'Marapacchi Bommai' are are presented to a newly wed bride by her parents as part of wedding trousseau which also initiates the yearly tradition of 'Navaratri Golu' in her new home. The dolls come as couples dressed in their wedding attire, depicting husband and wife symbolizing prosperity and fertility and the start of the bride's Golu collection. The Golu Bommais or dolls  are typically passed on from one generation to another as heirloom. During Navaratri evenings, women get together in each other's homes to exchange gifts and sweets, specifically hadli and kumkum or vermilion, and sundal or the protein packed stir frys (made with either chickpea, peanut, white beans, white peas, etc.).
Here is a picture of our Golu this year.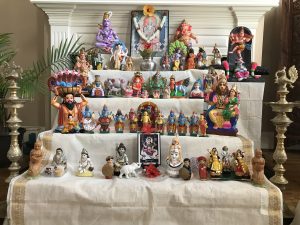 On the 4th day of Navaratri we worship Devi Kushmanda, the cosmic egg or the Creator of the Universe. A friend shared this with me that I loved:
Remember to check out @madetolovemagic on Instagram for more details on worshipping Goddess Kushmanda and her qualities. Also don't forget to print out the relevant Yantra to color from @miradiwanikrishnan's blog, Loving Kali.
Now for Day 4's DeviPrasadam:
Badam Kheer
Bisi Bele Bhath
Kala Chana Sundal
Recipe for Badam Kheer: (from Chitra Viswanathan app)
Ingredients:
Milk or Almond Milk – 1/2 litre
Almonds – 30
Sugar – 1/2 cup
Water – 1 1/2 cups
Cardamom powder – 1/2 tsp
Saffron – 1 few strands
Chopped almond slivers and cashews if needed; roasted in ghee
Method:
Soak the almonds overnight; if not soak in hot water for an hour.
Peel and grind with 1/2 cup water to a smooth paste.
Boil the milk on the stove or in the microwave on high for 5 minutes.
Add the ground paste and simmer on a low flame on the stove for 10 minutes; or heat on high in the microwave for 5 minutes.
Add the sugar and simmer again for 5 minutes.
Add the cardamom and saffron; and the chopped nuts for garnish.
Leave in the refrigerator to cool; this also gives the kheer the right consistency.
Recipe for Bisi Bele Bhath: (You can go here for a Quinoa Bisi Bele Bhath but this one below is a no onion no garlic version and done in OPOS style)
Ingredients:
Rice – 1/2 cup
Tuvar Dal – 1/2 cup
Roasted dry coconut – 3 tbsp
Sambar powder – 1tsp
Salt – 1tsp
Jaggery – optional, a pinch
Turmeric – 1/4 tsp
Asafetida – 1/4 tsp
Tamarind pulp – 1tbsp
Ghee – 1tbsp
Water – 3 cups
Method:
Take a 2 L stainless steel pressure cooker.
Layer the ingredients in order; you can add the ghee at the bottom before adding them in order
Cook on high heat for 8 whistles or 10 minutes
Let the pressure settle; open the lid and add 1 cup cold water.
Mix well. Garnish with ghee and chopped cashews.
Recipe for Kala Chana Sundal:
Ingredients:
Black chana or Kala Chana – 1 cup
Salt to taste
A pinch baking soda
Tamarind paste – 1tsp
To be roasted and ground:
Coriander seeds -2 tsp
Dry red chilies – 3-4
Hing – 1/4 tsp
To temper:
Oil – 2tsp
Mustard seeds – 1 tsp
Curry leaves – a few
Method:
Soak the chana in cold water with 1/4 tsp baking soda overnight. Make sure to add enough water to cover the chana.
The next day, cook the chana in a pressure cooker with salt for 3 whistles on medium heat.
Drain and set aside.
Roast the grind the ingredients for the powder and mix the tamarind paste.
Heat oil in a pan and add in the ingredients for tempering.
Add the powder and then the chana. Mix well.
Garnish with cilantro.