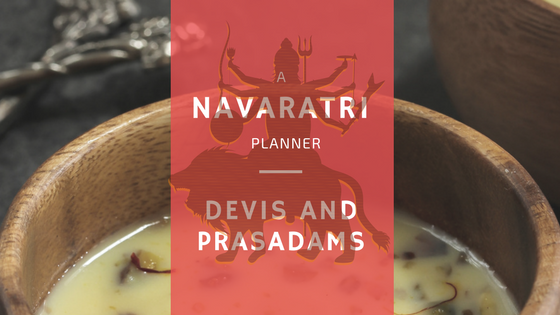 I've been in a blogging rut as you can tell. As I said here two years ago, it's fascinating how the change in seasons, the moon cycles and the environment has such a profound effect on our bodies and minds. When you really delve into the reasons why we honor the different festivals and make the different foods that we do, you realize that there's a logical reasoning behind the traditions and customs. The changing seasons have a lot to do with how we react physically and mentally and eat the foods we do.
I have gone into why we celebrate Navaratri in an old post, but it's the perfect time to really get ready for winter, to "detox" from the summer and create warmth for the next seasonal cycle, the 9 nights of worshipping the feminine energies, followed by the festival of lights or Diwali.
It's a busy time of year – we celebrate 9 forms of Goddesses symbolizing different qualities and values, thereby invoking the qualities in each one of us. It's my favorite festival also for it's female centricity. The dark forces of "ego" and "arrogance" symbolized by the demon Mahishasura are overpowered and vanquished by the gorgeous female Goddess Durga riding a tiger and thus bringing about tranquility and stability in the human Gunas or traits. The offering or prasadam is usually protein packed and nutritious, possibly to ensure the Devi (Goddess) is full of energy as she embarks on her battle.
This year I wanted to collaborate with a dear friend and fellow Instagrammer madetolovemagic for a daily account of Devis and Neivedhyams. She will be posting daily about the different feminine energies we worship and I will complement the posts with the daily neivedhyam or the offering. You can follow us both on our Instagram profiles here and here.
You can also check the daily menu here below. I will post the recipes the day before so you can follow along. Most of these recipes are festival recipes but I have tried to make the mornings simpler by incorporating One Pot One Shot or recipes made in the pressure cooker as much as psosible to save you time in the busy mornings. Don post your feedback as you follow along here, on Facebook or on Instagram.
Navaratri Daily Menu:
Day One: Rice Coconut Jaggery Payasam and Venn Pongal. Evening Prasadam : Rajma or Kidney Bean Sundal
Day Two: Sakkarai Pongal and Puliyodharai or Tamarind Rice. Evening Prasadam : Thengai Mangai Pattani Sundal
Day Three: Sweet Potato Kheer and Kothamalli Saadham or Cilantro Rice .Evening Prasadam: Sprouts Sundal
Day Four : Baadam Kheer and Kadhamba Saadham. Evening Prasadam : Kala Chana Sundal
Day Five:  Paal Payasam and Yoghurt Rice.  Evening Prasadam: Peanut Sundal
Day Six : Wheat Rava Payasam and Lemon Rice. Evening Prasadam : Kabuli Chana Sundal
Day Seven: Pumpkin Payasam and Coconut Rice. Evening Prasadam: Black Eyed Peas Sundal
Day Eight: Kalkandu Saadham and Ellu Saadham or Sesame Rice. Evening Prasadam: Bengal Gram or Kadala Paruppu Sundal
Day Nine : Akara Adisal and Green Mango Rice. Evening Prasadam: Moong Dal Sundal
Day Ten: Sakkarai Pongal and Karuvepalai Saadham (Curry Leaves Rice).
And here is the recipe for Day One: (remember I am making some of these as we go so I may not have not pictures for all. Follow along on Instagram for daily pictures and write ups on recipe.
Day One of Navaratri– The first of the the nine forms of the Goddess is Sailaputri, the Daughter of the Mountains and is Sati reborn, strong and eternal. She rides a white bull and carries a trident. She resides in the first Chakra or the Muladhara Chakra, beginning her ascent through the aspirant's meditation as Parvati. She blesses her devotee with forbearance and composure. (See madetolovemagic's post)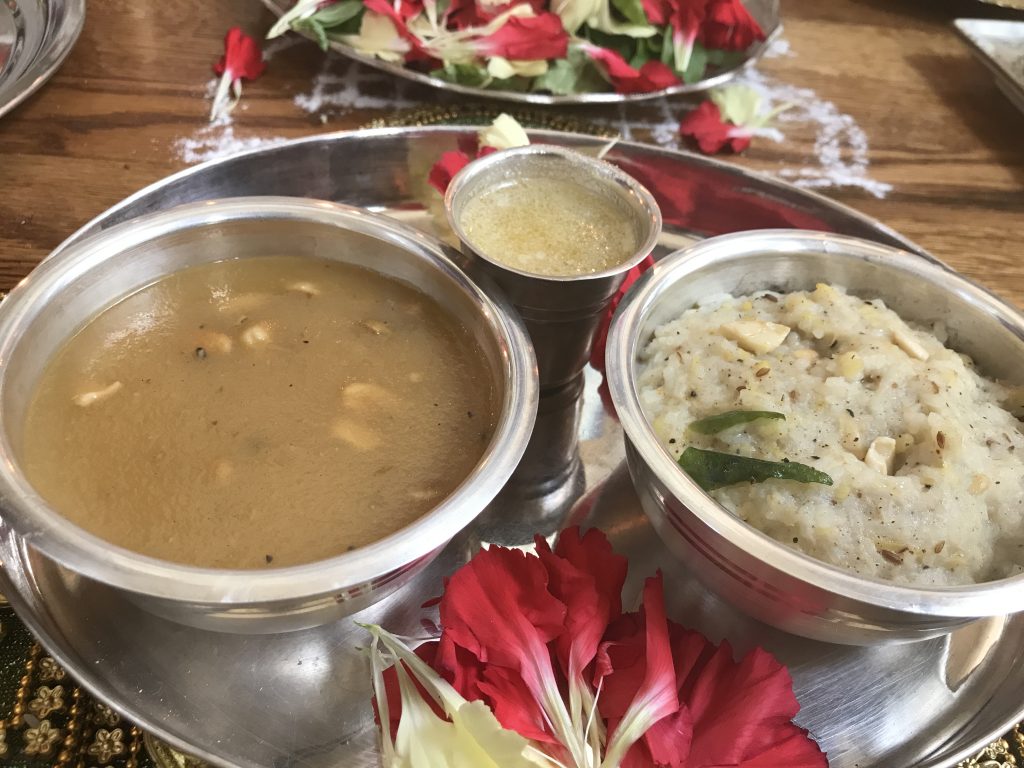 Rice Coconut Jaggery Payasam: (From

Chitra Viswanathan's app and blog

)
Ingredients:
Rice – 2 tbsp
Freshly grated coconut – 2 tbsp
Jaggery – 3/4 cup. I also use jaggery powder or coconut sugar
Milk or coconut milk – 1 cup
Chopped cashews – 1 tbsp
Raisins – 1 tbsp
Ghee – 2 tbsp
Cardamom powder – 1 tsp
Method:
Wash and soak the 2 tbsp rice for 1 hour.
Drain and grind with the coconut adding enough water.
Mix the jaggery with hot water and let it boil; you can strain to remove impurities or use jaggery powder which I do. I also use coconut sugar.
Mix the rice paste and keep stirring so you don't get any lumps.
Let simmer and allow the paste to cook well.
Add cardamom. Add milk or coconut milk and let it simmer.
Fry the cashews in ghee and add to the payasam as garnish.
Venn Pongal Recipe:
You can find the recipe for Venn Pongal here. 
Rajma Sundal:
Rajma or kidney beans – 1 cup
Tamarind paste – 1 tsp
Salt to taste
For dry roasting and grinding
Dry Arbol chilies – 3-4
Coriander seeds or dhaniya – 1 tbsp
Asafetida or hing – 1/2 tsp
To temper:
Oil – 1tbsp
Red chilies – 2-3
Mustard seeds – 1 tsp
Urad dal – 2 tsp
Curry leaves
Method:
Soak rajma overnight; you may add a pinch of baking soda if needed, but this is optional.
Pressure cook in the morning with the salt till it is soft but not mushy. 2-3 whistles on medium heat. You can also use a slow cooker or Instant Pot to cook till soft
Drain, add the ground powder, tamarind paste and salt. Let is stand for 10 minutes.
Heat oil in a pan, add the tempering ingredients and heat till mustard seeds crackle and urad dal turns light brown.
Pour this over the spiced rajma. You can continue to heat for 5 more minutes.