I read this on a blog today by the Isha Yoga Center on Navaratri and it resonated:
"To approach these nine days, and every other aspect of life in a celebratory way is most important. If you approach everything in a celebratory way, you learn to be non-serious about life but yet absolutely involved. The problem with us human beings right now is if we think something is important, we get serious about it. If we think it is not so important, we become lax about it – we don't show the necessary involvement. The secret of life is in seeing everything with a non-serious eye but being absolutely involved, like a game."
Simple yet profound words of wisdom. And this could apply to every festival we celebrate in any part of the world. If we could go about every day with this principle of celebrating the positives every day, not getting too serious or mired in the negatives and yet be fully aware of every moment, we have unlocked the secret of eternal bliss. Easier said than done:)
On Day 7 we worship Kalaratri, who is considered the fiercest form of the Mother Goddess. She is the destroyer of all demon entities, ghosts, spirits and negative energies and is also known as Shubhankari or the giver of good things.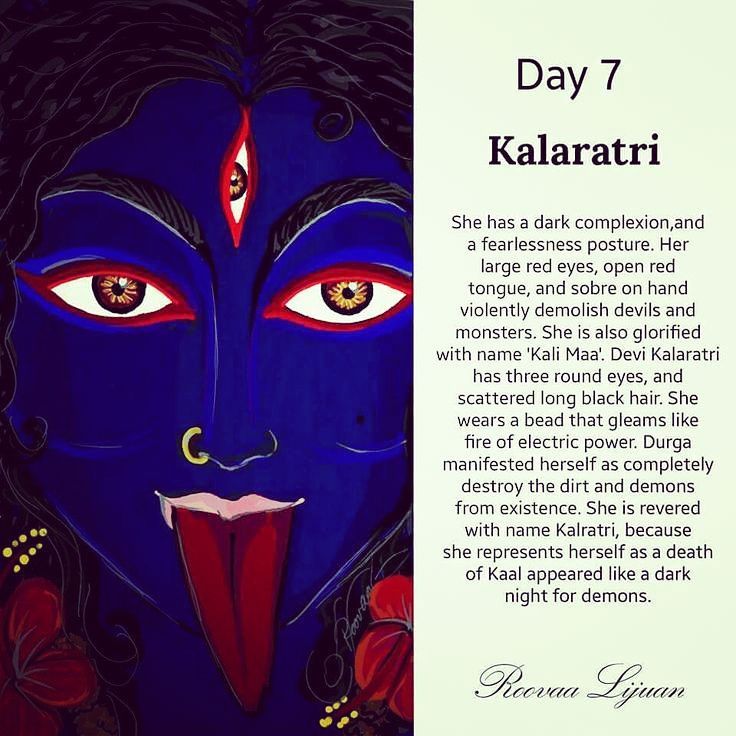 The Prasadam for day 7 is:
Pumpkin Payasam
Coconut Rice
Black Eyed Peas (Karamani in Tamil or Lobiya in Hindi) Sundal
Recipe for Pumpkin Payasam: 
Ingredients:
Pumpkin – 1 1/2 cups; chopped
Coconut milk – 1 cup
Jaggery – 1/4 cup or to taste.
Nutmeg – a pinch
Cardamom – 1/2 tsp
Chooped nuts – 1 tbsp
Method:
Preheat oven to 400F
Peel and roast the pumpkin cubes in the oven at 400F for 20 minutes till soft
Blend well with a little hot water to a thick soup like consistency
Heat over a medium flame; add melted jaggery
Add the cardamom and nutmeg and heat for about 5-10 minutes.
Add the coconut milk and adjust consistency.
Garnish with chopped nuts
Recipe for Coconut Rice:
Ingredients:
Basmati Rice – 1 cup; cooked
Grated coconut – 1 cup
Salt to taste
For tempering:
Mustard seeds – 1 tsp
Urad dal – 1 tsp
Curry leaves – a sprig
Dry Arbol Chiles – 3
Asafetida – 1/4 tsp
Green chilies – 2
Oil – 2 tbsp
Coconut oil – 1 tsp for garnish
Method:
Heat oil in a pan; and temper the ingredients listed under tempering or tadka.
Add the grated coconut and sauté lightly.
Add the rice, salt.
Add 1 tsp of coconut oil and a little grated coconut before you serve the rice. (a tip from Chitra Viswanathan app/blog)
Recipe for Black Eyed Peas Sweet Sundal
Ingredients:
Black eyed peas – 1 cup
Jaggery – 1 cup
Cardamom powder – 1/2 tsp
Ghee – 2 tsp
Grated coconut – 1/4 cup
Method:
Dry roast the black eyed peas for 5 minutes in a pan; then soak for about 6 hours.
Pressure cook for 3-4 whistles.
Melt the jaggery in a pan with 1-2 tbsp of water.
Strain the melted jaggery then boil again for a few minutes.
Add the boiled and drained black eyed peas to the melted jaggery. Stir till the jaggery and beans mix well and all the moisture evaporates.
Add grated coconut and sauté again
Garnish with cardamom powder.